Onion Sets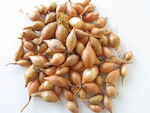 Brogaard is the only place in Denmark where onion sets are grown.
We produce from about 40 hectares. Which gives approximately 1000 tonnes of onion sets.
We pack these small bulbs in bags of 150-400 g in each bag.
Onion sets make it easy for garden owners to grow lots of onions and onion is a nice crop that is even easy to store for later use , which is very practical if you do not have time to eat them all during the summer.
Onion sets are small onions, which in Denmark are grown at the specialized farm holding on Lammefjord in such a dense population the year before that they can be harvested in an appropriate small size in July-August . It is these small bulbs one buys as onion sets to put in the garden, and each small onion sown grow on to a large onion.
The largest part is, however, sold abroad , however , in most of Europe where you can be early in the process of selling onions, either as bunch of onions or finished eating onions .
Onion sets are ready approximately 1 month sooner than seed onions .